NEWSROOM

Contex Partners Acquires Specialist Design & Engineering Firm from Switzerland

Manama, 30th January 2017

Bucking the trend of downsizing and pessimism within the market, Contax Partners announces the acquisition of Caper Engineering, a spertalized,Switzedand based provider of niche engineertng, design and project management services to the refinery and petrochemical sectors. With a focus on providing hig,quality technical engineering services to major project owners and contractors within Europe and Asia, the acquisition of Capes Engineering reaffirms Cont. Partne, ongoing commitment to mpand its mpabilities and service offerings to support the broader energy sectors within its established and new markets.
With hundreds of projects completed by Capes Engineering team of Experts within the areas of operational improvement process optimization, equipment assessment and design IS engineering feasibility studies, the acquisition provides fantails clients with a broader access to technical services and profit Improvement proven techniques that will complement its core specializatMn in market and Mk based consulting studies. Filippo Fantechi, Chief Executive of Contax Partners said, °The acquisition of Capes Engineering and Its subsequent Integration into Contax Partners will significantly improve the value proposition to our combined clients and fits ideally vdth the company's strategy of expanding geographically and proving service offerings that support our core global clients."
With global project owners reducing capes spends and focusing on process improvements, the acquisition of Capes Engineering comes at an ideal time to support these ongoing initiatives. Our clients will not only receive the highest quality of fact-based research and advisory, that has always been synonymous with Contas Partners, but, will also be supplemented wiM superior techniml consulting, project management services and asset management services that are becoming a growing requirement for project owners and contractors.
Claudio Roberto Tettamanzi, managing Partner at Capes Engineering said, °The Capes team, including our subsidiary in Russia and Turkey, is very motivated about the strong operational synergies and remarkable growth opportunities that our brand of professional services will provide to the Comas Partners' portfolio'.
The acquisition has substantial strategic benefits:
Larger portfolio of technical and non-technical consulting services across the entire project life-cycle
Shared track record of servicing over hundred clients
Greater access to technical and market experts
Access to larger geographies across most major energy producing countries
Substantial financial benefits
About Contax Partners
Established in 1985, Cont
ax Partners is a leading provider of project data, research and analysis, strategic and commercial due diligence, risk and growth advisory, business development and new venture creation services in the Middle East energy and energy related services industry. Contax Partners provides these services to national and international oil companies, contractors, subcontractors, service providers, equipment manufacturers as well as government agencies, investment banks and private equity firms.
About Capex Engineering
Established in 2006, inheriting over a decade of years in reference and competence in its market, Capex Engineering is a specialized design and engineering firm supporting project owners and contractors on all critically technical aspects of capital projects within the refining and petrochemical sectors. These include technical feasibility studies, process optimization, equipment selection and overall project management. Its core markets include Eastern & Western Europe, Russian Federation / FSU and Turkey.
www.capex-ag.com
 
For more information, please contact: Ann-Marie Carbery — Director of Business Advisory Services
Annmarie.Carbervacontaxpartners.com
---
The Team
For over  30 years, Contax Partners' success has been built on the professionalism and competencies of its people who engage in continuous learning, renewal and development. The Contax Partners Team is passionate about the Middle East and Africa. We have understood the challenges that decision makers face in the region and within the industry. From this deep understanding, we have developed and populated a project database with market intelligence on over 5,000 projects robust methodologies, world class processes and trusted networks to enable us to deliver insightful and sustainable growth solutions for our clients. Recognized as Thought Leaders and Trusted Advisors, our diverse team possesses  a breadth of knowledge and expertise to ultimately empower our clients to success.
Meet the Partners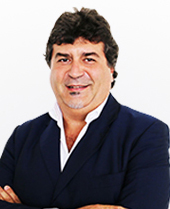 Filippo Fantechi
Chief Executive Officer
Based in Bahrain, Filippo Fantechi has over 20 years of experience in business development, project management, sales management, establishing business operations and market strategy within the Middle East, Africa, Europe and Russia. Filippo has a strong background in the energy, utility and construction sectors having worked as Project Manager in Iran, Russia and Qatar and Area Manager with Commercial and Operation responsibilities in the United Arab Emirates. Filippo has a PhD in Civil Engineering from the University of Florence, Italy and a Masters in Project Management. He has been part of Contax Partners since 1999.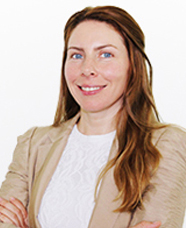 Ann-Marie Carbery
VP - Business Advisory
Based in Dubai, Ann-Marie has over 10 years of strategy development and implementation, project management, corporate transformation, risk management, EPC contracting and procurement experience within the Middle East, Africa and Europe. Ann-Marie has a strong background in the energy, utility and construction sectors. Former experience includes working as a strategy consultant for Accenture, particularly with IOC and NOC clients in UK, Holland, Kuwait, UAE, Oman, Syria and Qatar. Ann-Marie has a PhD in Developmental Biology from the University of Manchester, England and has been part of Contax Partners since 2008.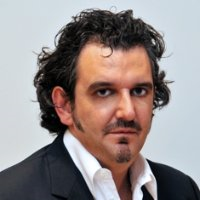 Giovanni Salerno
VP - Project Development (E&P)
Giovanni Salerno has over 22 years of extensive work experience in the E&P industry within Middle East, Australia, Russia, Africa, Latin America and India. With a strong background in the areas of field development and rehabilitation for both onshore and offshore operations, Giovanni has worked for leading IOCs alongside major NOCs to implement innovative processes in reservoir optimization and completion. Additionally, he has also provided consulting services for various companies in the upstream sector. Giovanni holds a B.Sc. degree in Environmental and Natural Resources Engineering from University of Bologna and has published several technical papers on completion methodologies. Furthermore, he owns several patents on autonomous completion devices.
Claudio Tettamanzi
VP - Project Development (Downstream)
Based in Switzerland, Claudio Tettamanzi has over 30 years of international experience in the oil & gas industry, with particular emphasis on management, sales and business development. Over the years, Claudio has gained specific knowledge in the refining and petrochemical space dealing with oil companies, main licensors and contractors across Europe, FSU and Middle East regions. Past experiences include: Vice President of Sales & Marketing and Director for Business Development for leading engineering companies within the refining and petrochemical space. Claudio has a Degree in geological science and hydrocarbon applications from the University of Milan and a Management in Business Administration in industry & Services from the Roosevelt University in Chicago, USA.
Our Core Team of Advisors
KALPESH RAMWANI
BUSINESS ADVISORY PROJECT MANAGER

Based in Dubai, Kalpesh has over 8 years of work experience within the management consulting industry of the Middle East and Africa markets. Prior to joining Contax Partners, Kalpesh worked for a boutique corporate finance and management consulting firm run by a McKinsey & Co Consultant. Kalpesh has a MBA (Honors) from Brandeis University, Waltham, MA and an Undergraduate degree in Business Administration from The Ohio State University, Columbus, Ohio, USA.
AMIT PANDIT
BUSINESS DEVELOPMENT CONSULTANT

Based in Dubai, Amit has extensive experience in business development, corporate strategy, and tendering works related to large energy projects within the Middle East & Africa. Amit also has a strong background in the energy, utility and construction sectors, having worked for some of the most reputed EPCs within the region. Amit holds an MBA in Infrastructure Management from AIIM, Ahmedabad, India and an Engineering Degree in Electronics & Communication from RGTU, India.
GAURAV KESWANI
CONSULTANT

Based in Dubai, Gaurav has worked within the research industry in India and in the Middle East. In addition to working on various consulting and business development assignments, Gaurav is the manager of the Contax Partners project database "Phoenix". Prior to joining Contax Partners, Gaurav worked for a research firm focusing on tracking the Private Equity industry in India. Gaurav has a Bachelor's in Business Administration from the University of Madras, Chennai, India.
AKSHAY SINGH
CONSULTANT
Based in Dubai, Akshay has worked within the consulting industry in India and Middle East. Prior to joining Contax Partners, Akshay worked with Deloitte Consulting in India and did his MBA internship in KPMG UAE where he was actively involved in change management, project management office, market entry strategy, market research, market assessment, competitor bench-marking and developing business propositions. Akshay has a MBA from Indian Institute of Management Indore and an Undergraduate degree in Computer Science and Engineering from Vellore Institute of Technology India.
SHAMLEE EPARI
RESEARCH CONSULTANT
Based in Dubai, Shamlee has worked within the research industry in the US, India and the Middle East. At Contax Partners, Shamlee is in charge of scanning the energy market, maintaining and updating the Phoenix database on a daily basis and providing support to the BA team for client deliverables. Shamlee has a Bachelor of Arts in Sociology from the University of Michigan, Ann Arbor, Michigan, USA.
NABEEL UMMER
SALES ENGINEER
Based in Abu Dhabi, Nabeel has over 10 years of work experience within the Oil & Gas and Industrial sectors of the Middle East Market. Prior to joining Brent, Nabeel worked as a Sales Engineer in the manufacturing sector and was involved with major energy and energy related projects within the region. Nabeel graduated from Pondicherry University, India, with a Diploma in Engineering.
---